Career Coaching Community
Join The Career Coaching Community
What is the CCC?
This is a new exclusive community that grants students access to one-on-one career coaching opportunities throughout the academic year.
CCC Membership Benefits
Meeting with a career coach will provide you with individual attention and support that is specific to your career journey. Coaches can help you:
Better understand and communicate your skills, interests, and values
Improve your resume and cover letter writing
Prepare for networking opportunities and informational interviews
Navigate job offer negotiations
and so much more!
How do I join the CCC?
Attend one of two of our introductory webinars (hosted 3x/week):
Our introductory events will kick off during the week of September 4th and registration links can be found here or on Handshake.
Once you have attended one of these events, you will receive email communications confirming your community membership and instructions for accessing your coaching appointments.
Note: If you have already met with a career coach previously, you have already been granted membership and should schedule your coaching appointments as usual.
---
Career Coaching Overview
In addition to our skills workshops and webinars, we offer individual career coaching services. Our career coaches are here to provide you with the tools and support you need to boost your career search and increase your chances of landing a job or internship.
All coaching sessions EXCLUSIVE to Career Coaching Community members and are 30 minutes in duration. Each appointment is scheduled through Handshake.
NOTE: Discussions pertaining to CPT/OPT and work visa policies and procedures should be directed to the Office of Global Services.
Fall 2023 appointments will kick off on Wednesday, September 6th
Not a Coaching Community member yet? See above for instructions on how to join.
If you do not see any coaching options or available times please email us at gradcareer@georgetown.edu.
Coaching Testimonials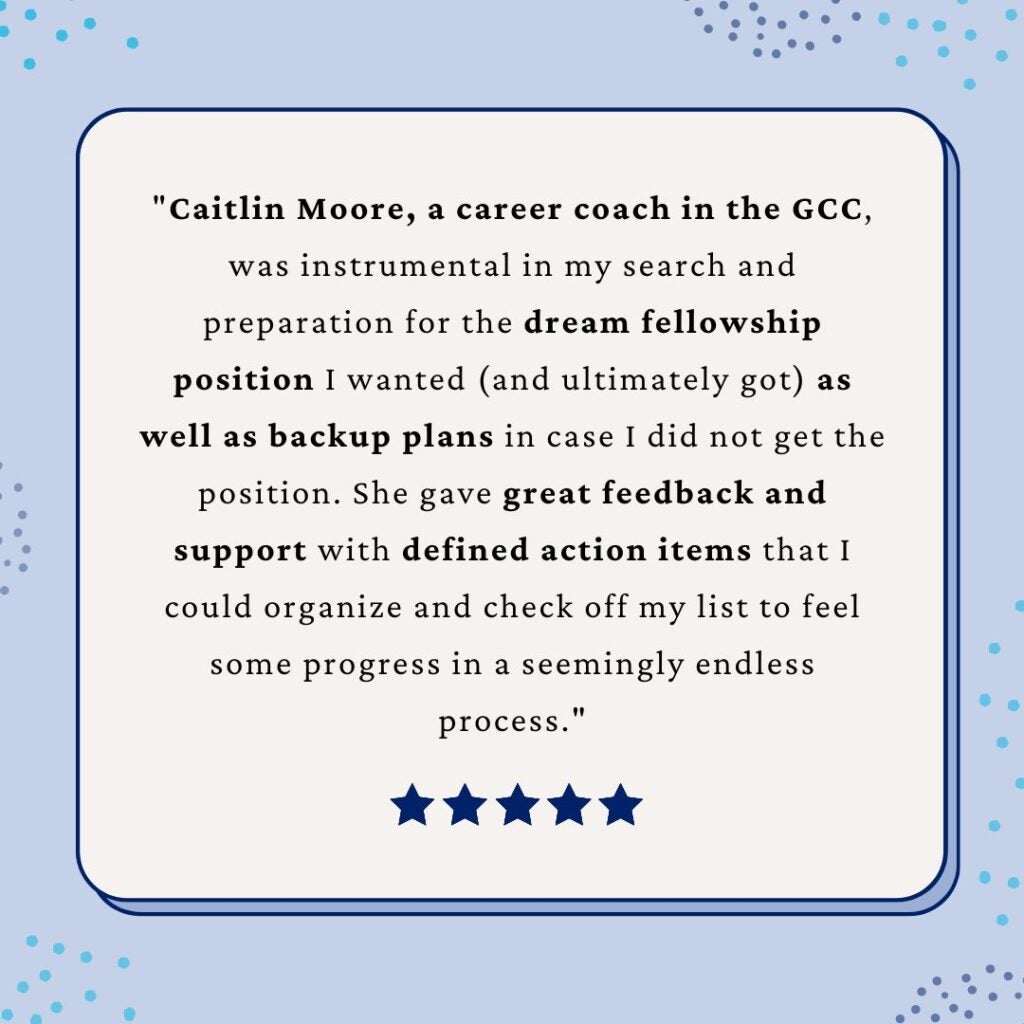 Coaching Expectations
Students are expected to take an active part in their career planning and preparation for each of their coaching sessions to ensure they make the most of their 30-minute appointment. We encourage you to review our preparation tips below.
---
How To Make The Most Of Your Coaching Appointment
Review the following information to ensure your individual coaching session is valuable:
Complete your pre-coaching survey with as much detail as possible.

The more detail you provide, the more we are able to prepare for your session.

Upload a copy of your most current resume or CV to the "My Documents" tab of your Handshake profile prior to your coaching session.

Don't worry about it being perfect or fully up-to-date, we just want to have it as a starting point for our meeting.
If you do not have a resume or are looking for a resume template, you can start here.

Review our Virtual Career Toolkit to familiarize yourself with the career management resources available to you.

This will ensure the time spent with your coach is dedicated to topics specific to your career path and search strategies.

If you need to cancel your appointment, please do so in Handshake to ensure your time slot can be offered to another student.

Coaching sessions are in high demand, but we understand if your schedule changes! You can always reschedule.